The overall goals of the Ophthalmology Residency Program of the New Jersey Medical School are to provide residents with superior clinical training in every subspecialty of ophthalmology and to afford opportunities for productive clinical and/or basic science research.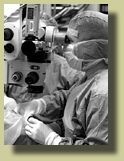 The Institute of Ophthalmology and Visual Science is unique in that it is the only institute in northern New Jersey to offer an Ophthalmology Residency Program and the only program in the State of New Jersey staffed by full-time academic ophthalmologists. As a result, residents benefit from an exceptionally large number of patient visits, are exposed to a broad spectrum of ophthalmic pathology, and receive the utmost in attending supervision in both the clinical setting and the operating room.

The Intitute's commitment to resident education is underscored by the fact that it has elected not to sponsor fellowship training programs. Instead, the faculty remains completely dedicated to resident training. In fact, since there are no fellows in the Institute, residents participate either as primary surgeon or first assistant in all surgical cases, resulting in resident surgical volume that ranks among the top 10% of ophthalmology residencies nationally. Furthermore, all didactic lectures are presented by faculty, and all surgical cases in which the resident is primary surgeon (including after-hours cases of ocular trauma) are staffed by an attending physician.